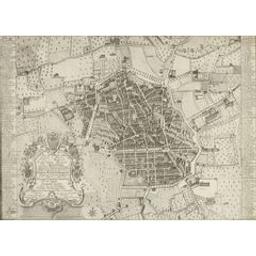 Title

Plan de la ville d'Aix capitale de Provence [Document cartographique] : dedié a Messieurs Joseph Ignace Bernard de Milan Forbin chevalier, marquis de la Rocque seigneur de Gontard, et autres lieux Grand Senechal de Provence : Henry des Michels de Champorcin (...) : Gaspard François Dantelmy (...) : par leur tres obeissant serviteur Esprit Devooux [sic] : gravé par H. Coussin 1741
Author(s)

Author(s)
Imprint

[Aix-en-Provence : Honoré Coussin, 1741-]

Publisher
Language

French
Country

France
Collation

1 plan : ill., arm., légende (A-I, a-yy, 1-155) ; 48 x 66,5 cm
Statement of scale

Echelle de 100 cannes = [6 cm]
Digitised version
Subject(s)
Form/genre
Thesaurus
ISBD

See ISBD format
Plan de la ville d'Aix capitale de Provence [Document cartographique] : dedié a Messieurs Joseph Ignace Bernard de Milan Forbin chevalier, marquis de la Rocque seigneur de Gontard, et autres lieux Grand Senechal de Provence : Henry des Michels de Champorcin (.) : Gaspard François Dantelmy (.) : par leur tres obeissant serviteur Esprit Devooux [sic] : gravé par H. Coussin 1741. - [Aix-en-Provence : Honoré Coussin, 1741-]. - 1 plan : ill., arm., légende (A-I, a-yy, 1-155) ; 48 x 66,5 cm.
Report an error or problem
Permalink
Checking of available copies ...
Request item
Checking of available copies ...
Other format
Issus de la même oeuvre