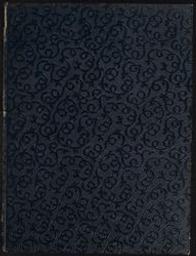 Title

Il secondo libro delli fioretti musicali a tre voci. D'Amante Franzoni Mantovano. Co'l basso continuo per il clavecimbalo, chitarrone, & stromenti simili. Raccolta dal R. don Francesco Dognazzi [...] Novamente composto, & dato in luce
Author(s)

Author(s)

Author(s)
Imprint

In Venetia : appresso Ricciardo Amadino, 1607

Publisher
Language

Italian
Country

Italy
Collation

4 vol. : titres encadrés, lettrines, mus. ; 4to
Uniforme titel
Provenance
(Musical)
representation

Canto I, canto II, basso, basso continuo
Biliographic
reference


RISM A/I/3 F 1819
Author (note)

Épître dédicatoire de Francesco Dognazzi à Bonaventura Grignano
Additional form (note)

IL existe un microfilm de cet exemplaire
Copy (note)

Notes ms. sur le titre du Basso continuo
Sous étui à lacets avec les vol. du 1er livre (Fétis 2.273 A 1)
Digitised version
ISBD

See ISBD format
Il secondo libro delli fioretti musicali a tre voci. D'Amante Franzoni Mantovano. Co'l basso continuo per il clavecimbalo, chitarrone, & stromenti simili. Raccolta dal R. don Francesco Dognazzi [...] Novamente composto, & dato in luce. - Canto I, canto II, basso, basso continuo. - In Venetia : appresso Ricciardo Amadino, 1607. - 4 vol. : titres encadrés, lettrines, mus. ; 4to. - RISM A/I/3 F 1819. - Épître dédicatoire de Francesco Dognazzi à Bonaventura Grignano. - Notes ms. sur le titre du Basso continuo. Sous étui à lacets avec les vol. du 1er livre (Fétis 2.273 A 1).
Report an error or problem
Permalink
Checking of available copies ...
Request item
Checking of available copies ...
Other format
Issus de la même oeuvre