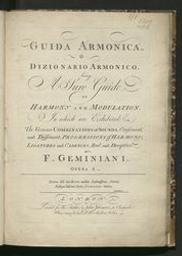 Title

Guida armonica o Dizionario armonico. Being a sure guide to harmony and modulation, in which are exhibited, the various combinations of sounds, consonant, and dissonant, progressions of harmony, ligatures and cadences, real and deceptive. By F. Geminiani. Opera X ; A supplement to the Guida armonica, with examples shewing it's use in composition : by F. Geminiani
Imprint

London : printed for the author : by John Johnson [...], [c. 1742] ; 1742

Publisher

Publisher
Language

English
Country

United Kingdom
Collation

2 part./1 vol. ([6], 34 ; [8], 10 p.) : mus. ; 4to & folio
Provenance
Copy (note)

RISM B VI, p. 356
Ex. Fétis 6.427 C bound with Fétis 6.214 C
Digitised version

URL
ISBD

See ISBD format
Guida armonica o Dizionario armonico. Being a sure guide to harmony and modulation, in which are exhibited, the various combinations of sounds, consonant, and dissonant, progressions of harmony, ligatures and cadences, real and deceptive. By F. Geminiani. Opera X ; A supplement to the Guida armonica, with examples shewing it's use in composition : by F. Geminiani. - London : printed for the author : by John Johnson [...], [c. 1742] ; 1742. - 2 part./1 vol. ([6], 34 ; [8], 10 p) : mus. ; 4to & folio. - RISM B VI, p. 356. Ex. Fétis 6.427 C bound with Fétis 6.214 C.
Report an error or problem
Permalink
Checking of available copies ...
Request item
Checking of available copies ...
Other format
Issus de la même oeuvre