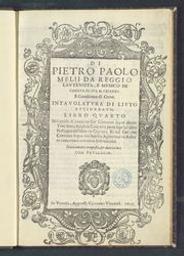 Title

Di Pietro Paolo Melii da Reggio [...] Intavolatura di liuto attiorbato. Libro quarto nel quale, si contiene due corrente sopra alcuni toni senza replica cioe una parte sopr'a l'altra nel capo del libro Un capricio et nel fine una corrente sopra una batalia agiuntovi un ballet to concertato con nove instromenti. Nuovamente composto, & dato in luce
Author(s)

Author(s)

Author(s)
Imprint

In Venetia : appresso Giacomo Vincenti, 1616

Publisher
Language

Italian
Country

Italy
Collation

[5], 38, [1] p. : titre gravé, mus. ; folio
Sig. A22
Provenance
(Musical)
representation

Tablatures
Author (note)

Épître dédicatoire du compositeur à l'archiduc Ferdinand II
Sonnet en l'honneur du compositeur par Pompeo [Caimo?]
Digitised version
ISBD

See ISBD format
Di Pietro Paolo Melii da Reggio [...] Intavolatura di liuto attiorbato. Libro quarto nel quale, si contiene due corrente sopra alcuni toni senza replica cioe una parte sopr'a l'altra nel capo del libro Un capricio et nel fine una corrente sopra una batalia agiuntovi un ballet to concertato con nove instromenti. Nuovamente composto, & dato in luce . - In Venetia : appresso Giacomo Vincenti, 1616. - [5], 38, [1] p : titre gravé, mus. ; folio. - Sig. A22 . - Épître dédicatoire du compositeur à l'archiduc Ferdinand II ; Sonnet en l'honneur du compositeur par Pompeo [Caimo?].
Found an error?
Permalien
Checking of available copies ...
Request item
Checking of available copies ...
Other format
Issus de la même oeuvre