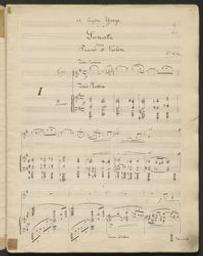 Title

Sonate | pour | Piano et Violon | G.me Lekeu [Musique manuscrite = Handgeschreven muziek]
Author(s)

Author(s)

Author(s)
Imprint

[S.l.] : [s.n.], 1892
Collation

1 partition (47 p.) ; 35 cm + partie de violon
Provenance
Note

Partition autographe à l'encre noire, datée et signée = Autografische partituur in zwarte inkt, gedateerd en ondertekend : "Mai-Août 1892 | G.L.". Partie de violon autographe = Autografische vioolpartij
Dédicace = Opdracht : A Eugène Ysaÿe
Annotation = Aantekening : "A mon cher Mathieu Crickboom | Voici les premières notes de musique | où je crois avoir mis quelque chose de moi-même. | Ce manuscrit t'appartient donc, légitimement, car c'est | et ce sera mon désir constant et vivace de ne | te céder aucune de mes pensées - et faire oeuvre d'art, | pour moi, si je songe à notre absolue fraternité, toujours grandissante, | est-ce autre chose que chercher à traduire ton sentiment le plus intime? | Paris - 2 Juillet 93 | G. Lekeu"
Cachet = Stempel : Conservatoire de Musique de Verviers
Dépôt de la ville de Verviers (fonds du Conservatoire de Verviers) = Depot van de stad Verviers (fonds Conservatoire de Verviers)
Content type

notated music
Carrier type

volume
Digitised version
ISBD

See ISBD format
Sonate | pour | Piano et Violon | G.me Lekeu [Musique manuscrite = Handgeschreven muziek]. - [S.l.] : [s.n.], 1892. - 1 partition (47 p) ; 35 cm + partie de violon. - Partition autographe à l'encre noire, datée et signée = Autografische partituur in zwarte inkt, gedateerd en ondertekend : "Mai-Août 1892 | G.L.". Partie de violon autographe = Autografische vioolpartij. Dédicace = Opdracht : A Eugène Ysaÿe. Annotation = Aantekening : "A mon cher Mathieu Crickboom | Voici les premières notes de musique | où je crois avoir mis quelque chose de moi-même. | Ce manuscrit t'appartient donc, légitimement, car c'est | et ce sera mon désir constant et vivace de ne | te céder aucune de mes pensées - et faire oeuvre d'art, | pour moi, si je songe à notre absolue fraternité, toujours grandissante, | est-ce autre chose que chercher à traduire ton sentiment le plus intime? | Paris - 2 Juillet 93 | G. Lekeu". Cachet = Stempel : Conservatoire de Musique de Verviers. Dépôt de la ville de Verviers (fonds du Conservatoire de Verviers) = Depot van de stad Verviers (fonds Conservatoire de Verviers).
Report an error or problem
Permalink
Checking of available copies ...
Request item
Checking of available copies ...
Other format
Issus de la même oeuvre