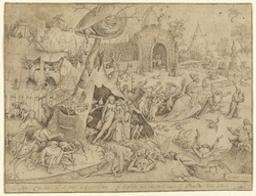 Title

Luxuria [Drawing] : The sin of lust
drawn by Pieter I Bruegel

Inscriptions

Signed and dated by the artist in lower right corner, in pen and brown ink: 'brueghel 1557'; inscribed at lower left, in pen and light brown ink: 'luxuria'; below drawing: 'Luxurije stinckt sy is vol onsuyuerheden / sij breeckt die crachten en sij swackt die leden'; verso: inscribed in pen and brown ink: 'Breughel Vecchio'
Document type
Imprint

1557
Country

Belgium
Collation

1 drawing : pen and brown ink ; 226 x 296 mm
Provenance
Material

paper
Note

Preparatory to the print in reverse by Pieter van der Heyden from 'The seven deadly sins' or 'The Vices' series edited by Hieronymus Cock
Biliographic
reference


Hans Mielke, Pieter Bruegel. Die Zeichnungen, Turnhout 1996, cat. 36; Manfred Sellinck, Bruegel, het volledige werk: schilderijen, tekeningen, prenten, Antwerp 2011, cat. 52; New Hollstein Dutch (Pieter Bruegel the Elder), under no. 27
Copy (note)

S.II 132816
Watermark
Verso: mark KBR in black ink (Lugt 260)
Other link
Digitised version
Subject(s)
Form/genre
Thesaurus

Iconclass
ISBD

See ISBD format
Luxuria [Drawing] : The sin of lust / drawn by Pieter I Bruegel. - 1557. - 1 drawing : pen and brown ink ; 226 x 296 mm. - Preparatory to the print in reverse by Pieter van der Heyden from 'The seven deadly sins' or 'The Vices' series edited by Hieronymus Cock. - Hans Mielke, Pieter Bruegel. Die Zeichnungen, Turnhout 1996, cat. 36; Manfred Sellinck, Bruegel, het volledige werk: schilderijen, tekeningen, prenten, Antwerp 2011, cat. 52; New Hollstein Dutch (Pieter Bruegel the Elder), under no. 27. - S.II 132816. Watermark. Verso: mark KBR in black ink (Lugt 260).
Report an error or problem
©FINGERPRINT – KBR – KU Leuven
Permalink
Checking of available copies ...
Request item
Checking of available copies ...
Other format
Issus de la même oeuvre