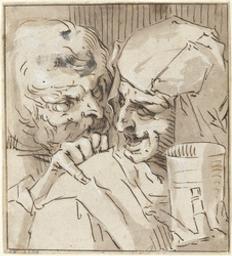 Title

Heads of an old man and woman, the woman holding a glass [Graphic]

Inscriptions

Verso: inscribed in graphite: 'De' and '18'
Author(s)

Author(s)
Imprint

[s.a.]
Collation

1 drawing : pen and iron gall ink, brown and grey wash, heightened with white gouache ; 175 x 158 mm
Material

paper
Note

Not cited in Van Regteren Altena 1983
Copy (note)

S.I 2309
No watermark
Verso: marks KBR in black (Lugt 260) and blue ink (not in Lugt)
Binding (note)

Provenance unknown
Url digitised version
Subject(s)
ISBD

See ISBD format
Heads of an old man and woman, the woman holding a glass [Graphic]. - [s.a.]. - 1 drawing : pen and iron gall ink, brown and grey wash, heightened with white gouache ; 175 x 158 mm. - Not cited in Van Regteren Altena 1983. - S.I 2309 ; No watermark ; Verso: marks KBR in black (Lugt 260) and blue ink (not in Lugt) . - Provenance unknown.
Found an error?
Attention!
Reserve a spot in the reading room before reserving documents.
Checking copies available...
Request item
Checking copies available...
Other format
Issus de la même oeuvre