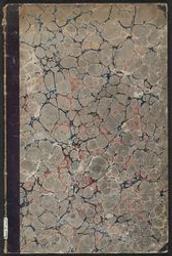 Title

Erste Lieferung der Clavier Übung bestehend in verschiedenen vorspielen und verændrungen einiger Kirchen Gesænge welche so wohl auf der Orgel als auch auf dem Clavier können tractirt werden, denen Liebhabern zur Gemüths Ergözung und besonders denen Lehrbegierigen zu grosen Nuzen und Vortheil verfertiget und öffentlich herausgegeben von Ioh. Ludwig Krebs Schloss-Organist in Zeitz [Zweyte Lieferung der Choral Fugen ...]
Author(s)
Spine title

Krebs Prélude d'orgue
Imprint

Nürnberg in Verlegung bey Balthasar Schmid Wittib, s.d

Publisher
Language

German
Country

Germany
Collation

24 p. : mus. ; 37 cm
Note

RISM A/I/5 K1952
Plattennummer : XXXVI
Copy (note)

3 Handschr. Partituren am Ende: Suite del Sig.r Krebs; del Sig.r Krebs; Eine Nachahnung der Nachtigall auf den Orgel von J. L. Krebs
Mit handschriftl. Bemerkungen
Digitised version
ISBD

See ISBD format
Erste Lieferung der Clavier Übung bestehend in verschiedenen vorspielen und verændrungen einiger Kirchen Gesænge welche so wohl auf der Orgel als auch auf dem Clavier können tractirt werden, denen Liebhabern zur Gemüths Ergözung und besonders denen Lehrbegierigen zu grosen Nuzen und Vortheil verfertiget und öffentlich herausgegeben von Ioh. Ludwig Krebs Schloss-Organist in Zeitz [Zweyte Lieferung der Choral Fugen.]. - Nürnberg in Verlegung bey Balthasar Schmid Wittib, s.d. - 24 p : mus. ; 37 cm. - XXXVI. - RISM A/I/5 K1952. Plattennummer : XXXVI. - 3 Handschr. Partituren am Ende: Suite del Sig.r Krebs; del Sig.r Krebs; Eine Nachahnung der Nachtigall auf den Orgel von J. L. Krebs. Mit handschriftl. Bemerkungen.
Report an error or problem
Permalink
Checking of available copies ...
Request item
Checking of available copies ...
Other format
Issus de la même oeuvre