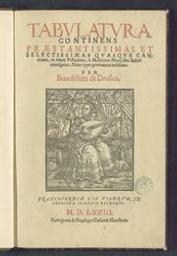 Title

Tabulatura continens præstantissimas et selectissimas quasque cantiones, in usum testudinis, à Melchiore Neusydler italicè invulgatas, nunc typis germanicis redditas : per Benedictum de Drusina
Author(s)

Author(s)

Author(s)

Author(s)
Imprint

Francofordiæ cis Viadrum : in officina Joannis Eichorni, 1573

Publisher
Language

Latin
Country

Germany
Collation

[47] f. : ill., mus. ; folio
Sig. A-L4 M3
(Musical)
representation

Tablatures
Author (note)

Au titre, allégorie de la musique jouant du luth entourée d'instruments de musique, signée H.F.
Épître dédicatoire de Benedict de Drusina à l'électeur de Saxe Auguste
Additional form (note)

Existe sur microfilm
Digitised version
ISBD

See ISBD format
Tabulatura continens præstantissimas et selectissimas quasque cantiones, in usum testudinis, à Melchiore Neusydler italicè invulgatas, nunc typis germanicis redditas : per Benedictum de Drusina. - Tablatures. - Francofordiæ cis Viadrum : in officina Joannis Eichorni, 1573. - [47] f. : ill., mus. ; folio. - Sig. A-L4 M3. - Au titre, allégorie de la musique jouant du luth entourée d'instruments de musique, signée H.F. Épître dédicatoire de Benedict de Drusina à l'électeur de Saxe Auguste.
Report an error or problem
Permalink
Checking of available copies ...
Request item
Checking of available copies ...
Other format
Issus de la même oeuvre