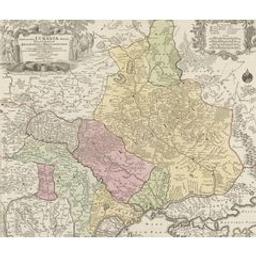 Title

Amplissima Ucraniae regio, palatinus Kioviensem et Braclaviensem complectens, cum adjacentibus provinciis juxta recentissimam designationem aeri incisa [Document cartographique] : cum gratia et privil. S.R.I. vicariatus, in partib. Rheni, Sveviae, et Juris Franconici
Author(s)
Imprint

Augustae Vindel : arte et sumtibus Tobiae Conradi Lotteri, [1757-] ; 1757-

Publisher
Language

Latin
Country

Germany
Collation

1 carte : en coul., ill., légende ; 49,5 x 57 cm
Provenance
Statement of scale

Milliaria Veranica 13. in uno gradu, 13 = [6,8 cm], [et al.]
Copy (note)

Cote VDM: "Russie part. N°32" (ms.)
L'exemplaire VDM est le III 10.321
Digitised version
Subject(s)
Thesaurus
ISBD

See ISBD format
Amplissima Ucraniae regio, palatinus Kioviensem et Braclaviensem complectens, cum adjacentibus provinciis juxta recentissimam designationem aeri incisa [Document cartographique] : cum gratia et privil. S.R.I. vicariatus, in partib. Rheni, Sveviae, et Juris Franconici. - Augustae Vindel : arte et sumtibus Tobiae Conradi Lotteri, [1757-] ; 1757-. - 1 carte : en coul., ill., légende ; 49,5 x 57 cm. - Cote VDM: "Russie part. N°32" (ms.). L'exemplaire VDM est le III 10.321.
Report an error or problem
Permalink
Checking of available copies ...
Request item
Checking of available copies ...
Other format
Issus de la même oeuvre